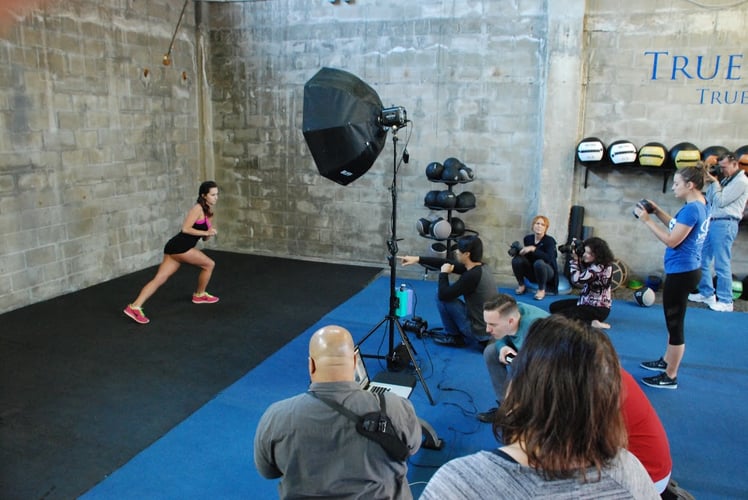 It was a pleasure to collaborate with Songbird Agency, True Grit Fit and Peerfit in bringing a fitness photography workshop to Tampa Bay Startup Week. Photographers from all over Tampa Bay came out to gain tips, techniques, and hands-on training for creating high-end commercial fitness photos.
A few things we talked about:
Communication Before, During and After a Shoot

Wardrobe

Hair and Makeup

Model Releases

Lighting

Exposure

Expressions

Poses

+ More
As part of the workshop, we photographed local fitness model, Amber Jackson. Here's a step-by-step walkthrough of the creative process behind one of my favorite shots from the session.
The idea for this shot is an ice-skater's movement. After arranging the lighting and exposure, we started off by having Amber face us and perform the motion freely so we could better visualize our composition.
The first thing I noticed was that her right arm was too low, so I directed her to bring her arm up higher as we snapped another shot.
We then began to realize that the angle wasn't the most flattering or appealing. I asked Amber to rotate toward her left (my right) so that we could adjust the angles of her arms and legs.
Now, the image was approaching what I had envisioned. But, I then noticed the hair tie on her arm. After asking her to remove the hair tie, I directed her to turn her head to her right (toward the light), and bring her left arm up slightly.
We had Amber go into a deeper lunge, to convey a more explosive and exaggerated movement. This is where we started working on her expression.
The final image: Amber did an amazing job of showing intensity and focus with her eyes, and breathing with her mouth slightly open to bring the image together. This is a subtle but critical difference between "getting the shot" and "nailing the shot." I think we definitely nailed this one. The only digital manipulation in this photo is that I removed the orange plug in the brick wall. Other than that, it's 100% real!
Most importantly, I'd like to give a big thank you to Amber, our other model, (
André Ortega)
, Peerfit, True Grit Fit, and everyone who attended the workshop. More events like this to come!